Meet Your Neighbor: Nora Luna
By Callie Thomas
The first and most widely thought associated with the Girl Scouts organization is…the cookies. We look forward to that time of year when they seem to be just about everywhere; in front of grocery stores, at the office and even at your door.  While we stock up on our all-time favorites, we may not consider that those delicious morsels are also an opportunity for young girls to build confidence and people skills as well as support developmental programs that have made an indelible impact on young girls for nearly 100 years.  Resident Nora Luna sees the importance of the Girls Scouts of America, which is 10,000 strong in Southern Nevada.  She has become a pioneering force in encouraging girls in our community, including young Latinas, to join the scouting experience.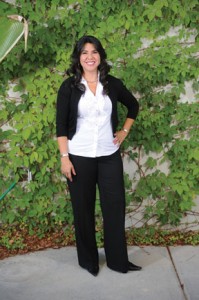 As a native Las Vegan and board member of the Girl Scouts of Southern Nevada, Luna believes strongly in the mission of the organization, "Girl scouting builds girls of courage, confidence and character who make the world a better place."  But it is perhaps her extensive knowledge and hands-on expertise in educational and developmental programs through her work with the University of Nevada Reno Cooperative Extension that allows her to see the potential of influencing our youth for a brighter future through the scouting program.  "Throughout my career, I have developed, implemented and evaluated youth development programs aimed at parents and youth to promote school success and prevention of adolescent problem behaviors, such as teen pregnancy, gangs, dropout, substance abuse and delinquency," says Luna.  "Scouting provides guidance and support and a preventative program that is part of the key in solving our societal problems with our youth."
Nora garnered her first-hand knowledge while establishing her career.  She began as an intern for the LVMPD "Kids in Action" program where she worked with Officer Cindy Rodriguez and helped implement school dropout prevention programs in at-risk neighborhoods.  "This experience changed my career path," she said.  "After graduating from UNLV I worked for the YMCA of Southern Nevada as a Prevention Specialist. In order to effectively implement the necessary programs I coordinated with many agencies including the Clark County School District, Clark County Juvenile Justice services and many others."  She later moved to Reno and worked for UNR's Center for Substance Abuse Technologies for 10 years conducting training and effective substance abuse prevention strategies to state and local agency personnel over the western region and the U.S./Mexico border area.
Luna believes she can utilize her cultural intuition by drawing from her own experiences as a young Latina to help reach more girls and encourage them to join the Girl Scouts.  "I recently participated in a Hispanic Heritage Family Celebration where we provided fun cultural arts and crafts activities, had several speakers, food, entertainment provided by high school mariachi bands and a folkloric ballet.  This event exposed many young girls and families to scouting, corrected misperceptions and helped spark an interest in it among girls who otherwise would not have been interested," she said.
Nora has found many ways of assisting the community and its youth through a variety of organizations including the Alliance of Latinas in Teen Action & Solidarity, the Read and Succeed program, the Nevada School-to-Work Transition System, Family Advocates for Community Empowerment Consortium and even as a Cub Master for Boy Scouts of America.
When she's not spending time with our youth, Luna adores spending time with her family, including her parents, sister, brother and young nephews who usually gather at her house on Sundays for lunch. She feels blessed to be close with her family who has been so influential in her life.
"So many people, including my parents, teachers and other mentors, gave me time, skills and resources to help me along the way.  Giving back, to me, is like paying it forward."